For privacy professionals, there are plenty of privacy certifications to choose from out there. In today's data-driven world, personal data needs to be protected. If you're looking for training and certification that will really set you apart from the rest, and one that is accepted across the industry as the gold standard, the
CIPP-E certification
may be the one that allows you to promote your career. With this credential, you'll become an expert in data privacy and protection laws and regulations.
So, if you're looking to
boost your career
in privacy compliance, this is the certification for you!
What is the IAPP CIPP-E certification?
If you are looking to gain a deeper understanding of the complex world of data privacy, especially the European Data Protection law, regulations, and frameworks, then CIPP-E (Certified International Privacy Professional/Europe) certification may be just what you need. CIPP-E is an industry-recognized certification that covers all aspects of privacy and data protection laws, policies, and practices. With CIPP-E, you will learn how to navigate challenges related to the collection, processing, storage, transfer, use, disclosure, or disposal of personal information in today's increasingly digital world.
Whether you are looking to advance your career in data privacy or are simply interested in learning more about this important topic, CIPP-E is an excellent choice for professionals at all levels. To learn more about CIPP-E and find
Is CIPM same as CIPP-E?
No. CIPP-E and CIPM are different certifications.

CIPM is Certified Information Privacy Manager and it focuses on management aspect of privacy. CIPP-E is Certified Information Privacy Professional in Europe and it focuses on being a privacy expert.
Who provides this?
CIPP-E is provided by the International Association of Privacy Professionals (IAPP).
As per our research, the International Association of Privacy Professionals (IAPP) is the world's largest and most comprehensive global privacy community to stay a step ahead with IAPP certification. They offer resources, networking opportunities, and education to help individuals and organizations protect their privacy. If you're looking to learn more about privacy, or need help implementing best practices, the IAPP is a great resource. Check out
their website
to learn more!
Why EU data protection law?
You probably heard about the new
EU law
– the General Data Protection Regulation (GDPR) that came into effect on May 25, 2018. This law means the national data protection laws in Europe are now harmonized inline EU GDPR. The EU has some of the most stringent data protection laws in the world. Therefore, if you're looking to get certified, it's important that you learn about these laws and how they apply to you.
The European Union institutions led by the European Data Protection Board have a robust system that set the rules, principles, and requirements to protect the privacy of its citizens. These institutions work to ensure that personal data is collected, used, and shared in a way that respects the privacy of individuals. In this certification, you will take a closer look at the role of these institutions and how they help to protect European citizens' data. By learning all the concepts in the EU data protection regime, and appearing in certification exams that test you on these laws, you get a step ahead in your career.
The benefits of getting CIPP-E certification
If you are a privacy professional, or you are aiming to become a privacy professional, earning CIPP-E certification will help you demonstrate that you have a deep understanding of European data privacy and data protection matters. This could give you an edge over other candidates when applying for jobs in the privacy and data protection field. And, having this certification will show employers that you take your data protection and privacy matters seriously and are committed to keeping their data safe. The most important benefit is that you confidence and job effectiveness on critical topics will be higher once you are certified.
What does CIPP-E certification include?
The CIPP/E certification includes a comprehensive curriculum that covers EU data protection laws like EU GDPR. It also includes a rigorous exam, and candidates must demonstrate their knowledge of the European Data Protection law landscape and expertise in order to earn.
Resources to help you study for the CIPP-E exam
You can
enroll
in
Elite Privacy Professional Masterclass for CIPP-E
to learn about all the relevant concepts, answers, and knowledge required for the CIPP-E exam. This is the right training that includes videos that provide you with knowledge of all the relevant concepts, sample questions, and a practice exam to help you prepare for the CIPP-E exam.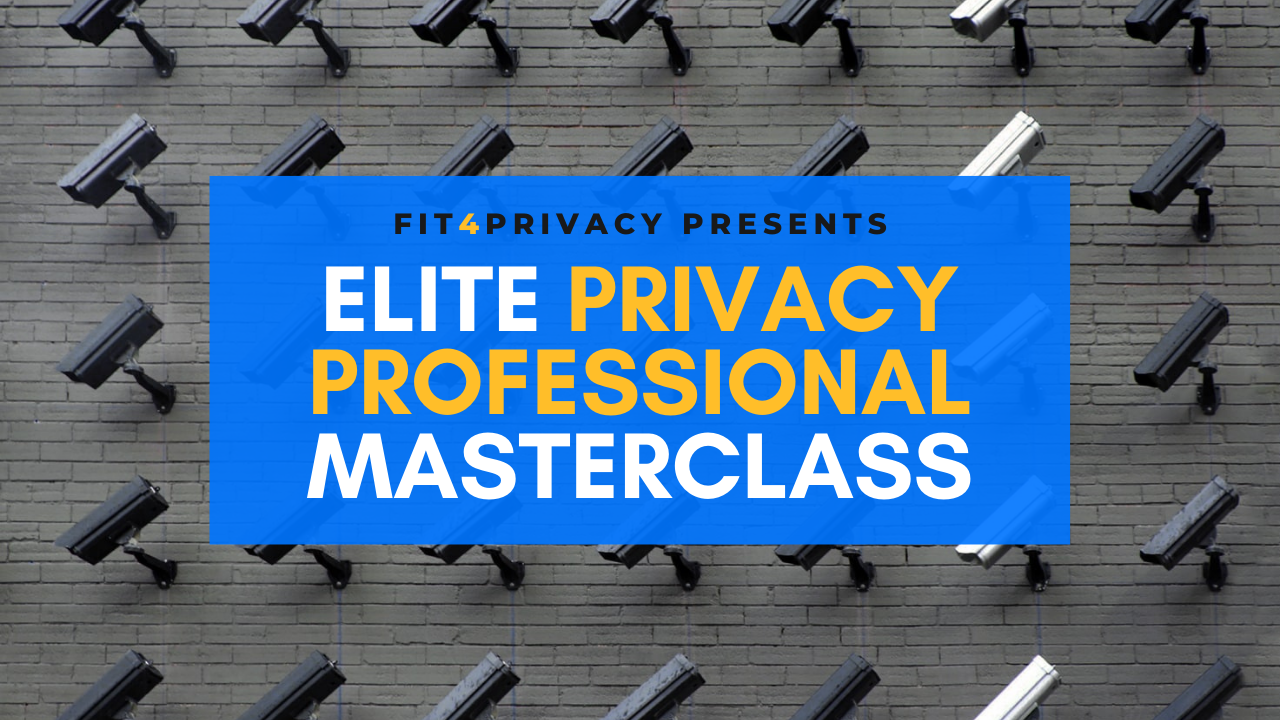 As each person is different, based on your learning style, you have the benefits of repeating the training videos and practice exams as many times as you wish. This is why we believe that on-demand training videos provide you with a better learning experience than in-person training while learning about exam topics and practicing for your exam from the comfort of your home or office. And, based on how many questions you have answered correctly, you get to know, which topics you need to improve your knowledge.
In this online training course, you get 90 days of online access to video resources knowledge, and you become part of a study group wherein you receive expert guidance via two emails per week. These emails help you to improve your knowledge base, tips, and tricks for your preparation for certification exams. Finally, by enrolling in our masterclass, you get access to resources, knowledge, and experts' inputs on how to handle real-life scenarios as well.
In short, in our
masterclass
, you will find a comprehensive body of resources you need to understand the complex landscape of today's data privacy.
What data protection topics are included in the exam?
The Elite Privacy Professional Masterclass training includes all the relevant details and concepts, knowledge, and additional information you may need. Specifically, includes the following topics:
Privacy Basics
Privacy Laws
Key Privacy Concepts
Understanding EU GDPR
EU Institutions and Legislative Framework
Data Processing Principles
Consent, Rights, and Notices
Security and Breaches
Accountability Obligations
Data Transfers
Supervision, Enforcement, and Fines
Compliance Scenarios

Be aware that the exam tests your knowledge by asking you scenarios that similar to ones you will face when monitoring compliance in internal data protection activities in a company.
How much time do I need to study?
We recommend that you study 40-60 hours. Remember, this is an average and based on your intellect, you may need more or less time.
When do you know you are ready for CIPP-E exam?
In case you have enrolled for Elite Privacy Professional Masterclass, take our exam and a 90% or more result immediately indicates that you are ready. Once ready, go through the resources, and exam blueprint, refresh all the key concepts, purchase the IAPP exam and go to the test center and take the exam to become CIPP-E certified.
Conversely, based on how many questions you have answered correctly, you get to know, which topics you need to improve your knowledge before you take the exam.
After you've passed the CIPP-E exam - what's next
When you have completed the CIPP-E exam and received the certification, you have a professional profile. You have become part of the elite privacy professionals community. We recommend you pay for an IAPP membership and become an IAPP member. This way you are part of their privacy professionals community. Of course, doing all this and passing the exam would mean that it's time to become part of a privacy team at one of the corporates.

Part of your role in privacy team, you will be guiding or training data processing staff, monitoring compliance by conducting or supporting internal audits, international data transfers, plus define, promote and improve a culture of privacy.

In short, you are one of the experts in growing global information privacy community who is ready to help organizations. In our view, you will make a remarkable difference in one year provided you have learnt the concepts, continue to follow the latest advances in data protection field and navigate the complex landscape by continuing to invest into individual and corporate memberships.
Conclusion
If you want to be ahead of the curve in data protection, privacy, compliance, and risk management, then this certification exam may be right for you. With this certification exam, you will gain access to a wealth of resources, knowledge, and ongoing career opportunities that will keep you on top of your game when it comes to protecting people's data. The Elite Privacy Professional Masterclass is the perfect way to get started on your privacy and data protection towards the certification exam – so what are you waiting for?
Enroll today and get ready for your exam
!
About the author...
Punit Bhatia
is one of the leading privacy professionals who is awarded a Certified Information Privacy Manager (CIPM), Certified Information Privacy Professional - Europe (CIPP-E), and a Fellow in Information Privacy (FIP) by the International Association of Privacy Professionals (IAPP).
Punit is also the author of books like Be Ready for GDPR, AI & Privacy, and Be an Effective DPO. Punit is the founder and CEO of FIT4PRIVAACY and host of the privacy podcast named The FIT4PRIVACY Podcast.
Punit has served as a Training Advisory Board member at IAPP and is currently a board member at the ISACA Belgium chapter and DPO Circle.

Punit is the instructor of Elite Masterclass courses that you can signup for.
Confused

between CIPP-E and CIPM...
Listen to the top EU GDPR based privacy podcast...
Stay connected with the views of leading data privacy professionals and business leaders in today's world on broad range of topics like setting global privacy programs for private sector companies, role of Data Protection Officer (DPO), EU Representative role, Data Protection Impact Assessments (DPIA), Records of Processing Activity (ROPA), security of personal information, data security, personal security, privacy and security overlaps, prevention of personal data breaches, reporting a data breach, securing data transfers, privacy shield invalidation, new Standard Contractual Clauses (SCCs), guidelines from European Commission and other bodies like European Data Protection Board (EDPB), implementing regulations and laws (like CCPA, EU GDPR, Chinese Data Protection Bill, India's Personal Data Protection Bill), different types of solutions, even new laws and legal framework(s) to comply with a privacy law and much more.
Created with